PARAMETERS
TOTAL SITE AREA
BUILDING GROSS AREA
MAX. PROJECT FOOTPRINT
REQUIRED LEVELS
MAX. HEIGHT
MAX. DEPTH
MIN. OUTDOOR LIVING ROOM

ADDITIONAL REGULATIONS



25,000 sf
20,000 sf
16,600 sf (66%)
2 or more above grade, 1 basement
125'
10' below grade
5,000 sf

min. 20' setback from northern edge of the site
rest of the site should remain open as accessible outdoor space
primary spaces must be accessible by ADA standards



SITE CONTEXT: ENVIRONMENTAL
Sun shadow diagram (summer solstice) was made to understand the range of sunlight and the limitations of the site. This was very informative of what parts of the site would need more access to sunlight, and which allies to keep in mind when designing the library.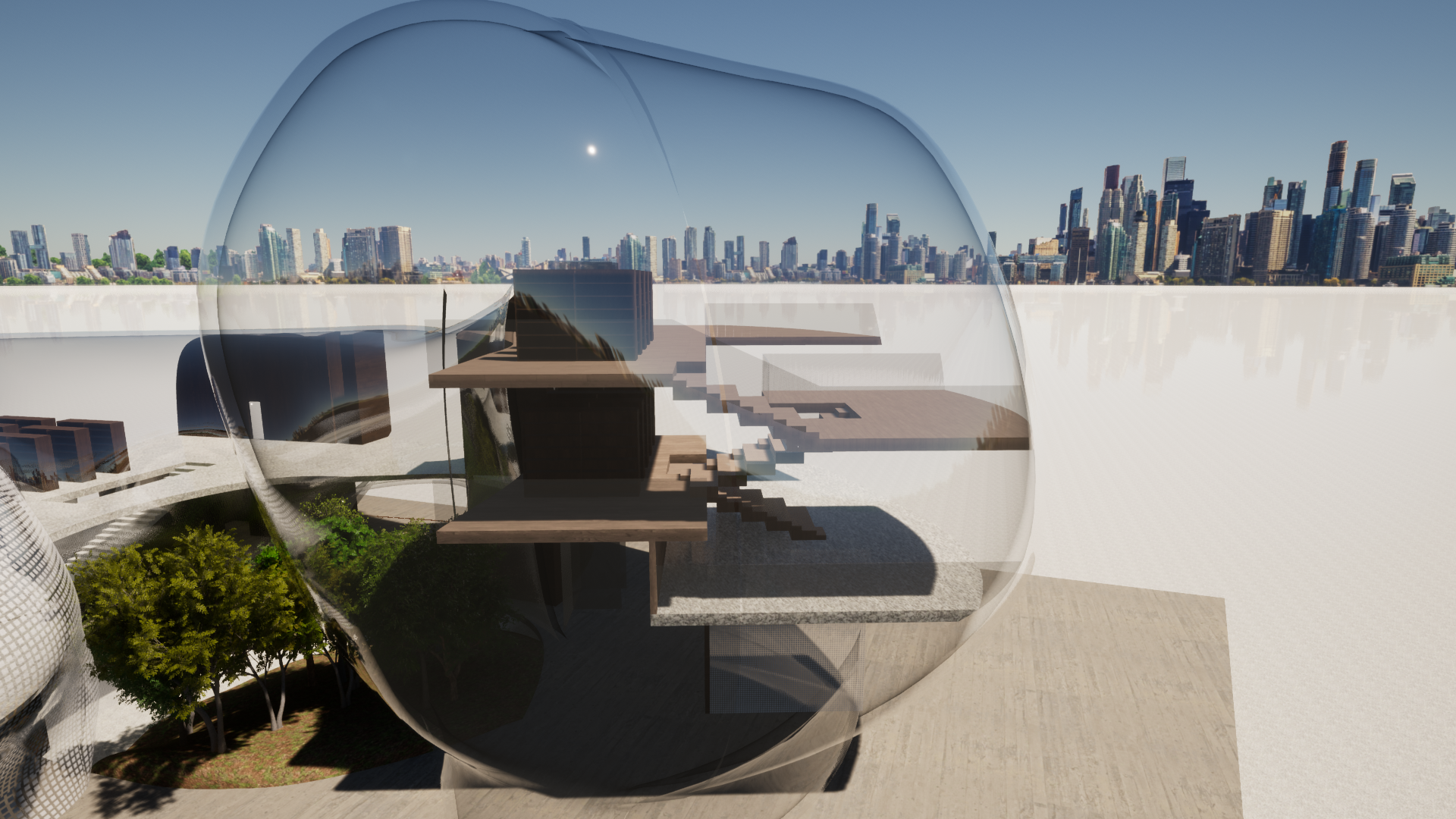 SITE CONTENT: NEIGHBORING LIGHTS
In addition to sunlight, I also wanted to study the potential neighboring lights around the site. This would give me a sense of how much light pollution there would be at night, and potentially how I could utilize the lighting.
Though the lights depicted was not accurate to what the buildings would look like every day, I simulated what areas the light would potentially permeate through, and recognized that the general space around the library would be quite well lit. The
AUDIENCE CONTEXT
There are three main types of buildings neighboring the site:
Residential

Institutional

Commercial
According to the building functions, I referenced to the general range of age of people occupying each type of buildings, and their potential use of the library. I deduced
institutional
and
residential
audiences would be most appropriate to design around, as they would be occupying the library most often (compared to commercial buildings).
After numerous site visits, I observed that institutional buildings were occupied by
students
of higher education or
professors
, while the residential areas were occupied by
small children
,
parents
, and
elders
.
With this information, I divided the spaces and programs in the library accordingly:
The north of the library would be designated to be instutional audience, for university students and professors, housing the main book collections, many study spaces and a lecture hall. On the other side, the spaces are designed for children and community activities.
APPLIED DESIGN: SITE CONTENT
CIRCULATION: EXTERIOR
CIRCULATION: INTERIOR
There are two main forms of fast circulation throughout the building: stairs and elevators. In order to maximize accessibility for the both the institutional and residential sections, I paid great attention to include both elevators and stairs at accessible locations in each area.

I located the main 'grand' stairs in the institutional side, considering for the typical movement and number of students inhabiting the space, while the 'grand' elevators were located in the residential side, accounting for the potential elderly and smaller groups of family visiting the library.
CIRCULATION: RAUM
When designing the residential side of the library, I wanted to incorporate a raum plan and a slow circulation for children to read in.
PLANS AND SECTIONS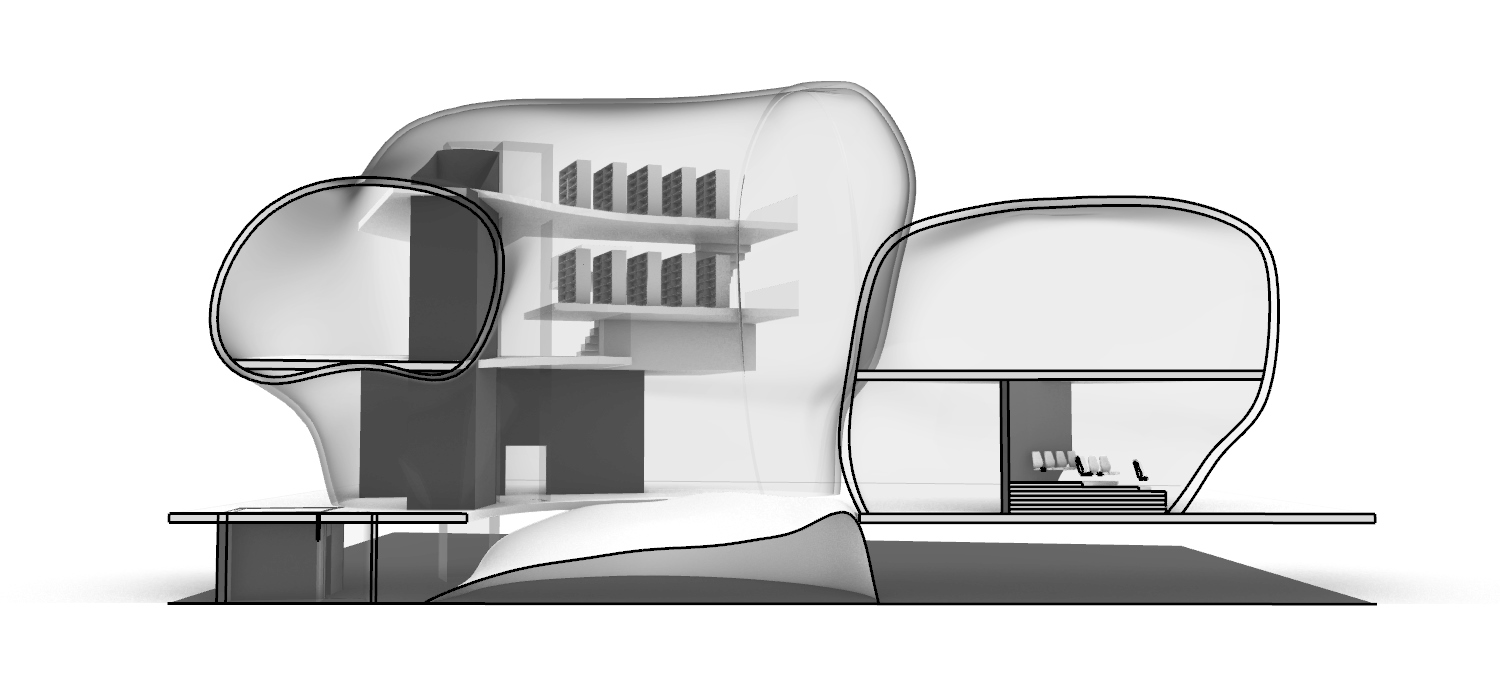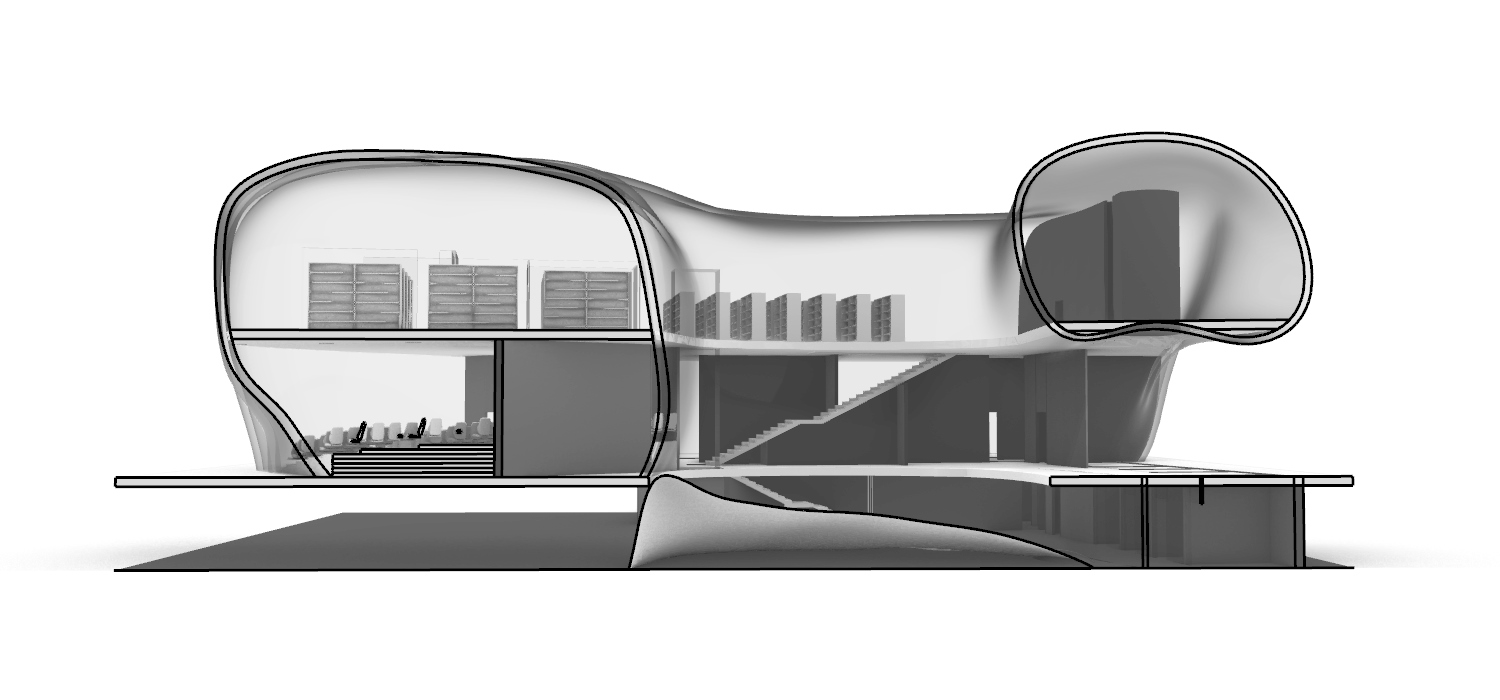 RENDERINGS
PHYSICAL MODEL: SECTIONAL (1'=0'-1/4")
PHYSICAL MODEL: SITE (1'=0'-1/16")